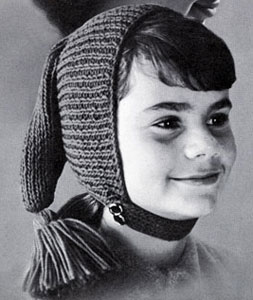 MATERIALS: BEAR BRAND DELUXE KNITTING WORSTED, FLEISHER'S SUPERIOR KNITTING WORSTED or BOTANY KNITTING WORSTED, 1, 4 oz. skein.
KNITTING NEEDLES: 1 pair "Boye" Needles, Size 8—or size you require to knit to gauge given below. "Boye" Hook, Size F (4).
GAUGE: 6 sts = 1 inch; 13 rows = 2 inches
Cast on 95 sts for front edge.
Row 1—wrong side—P 1, * k 1, p 1; repeat from * to end.
Row 2—K 1, * p 1, k 1; repeat from * to end.
Repeat these 2 rows for ribbing until 6½ ins. from beg., end on right side. Bind off in ribbing 4 sts at beg. of each of next 6 rows; 2 sts at beg. of each of next 20 rows; 31 sts. Dec. 1 st each side every 2nd row 5 times; 21 sts. Break yarn, leaving an 18-in. end.
Thread end of yarn into tapestry needle and draw end through; leaving sts on strand of yarn.
CHIN STRAP—Cast on 9 sts. Work k 1, p 1 ribbing for 4 ins. Bind off; do not fasten off.
Button loops—With crochet hook, skip 1 st, 1 sc in next st, ch 2 for button loop, skip next 2 sts, 1 sc in each of next 2 sts, ch 2, skip next 2 sts, 1 sc in last st. Fasten off.
FINISHING—Block. Draw end of yarn through sts at top of cap once more; draw up tightly and fasten off. Sew shaped edges tog. matching ribs for back seam. Join yarn at left corner of front edge, with right side toward you, work 1 sc in every 2nd row on neck edge to right front corner, holding edge in to 11½ ins. Fasten off. Sew cast-on end of chin strap to last 4 sc on right side of neck edge, with edge of strap even with front edge of cap. Press. Sew 2 buttons on left side of neck edge.
TASSEL—Wind yarn 70 times around a 6-in. cardboard. Tie at one end, cut other end. Wind yarn 3 times around tassel, 1 in. from tied end and fasten. Trim ends. Sew tassel to peak of cap, leaving ¼ in. of yarn between top of tassel and cap. Work 2 blanket sts over connecting yarn. Fasten off.
other patterns in leaflet: