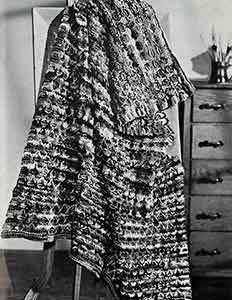 Knitted in one piece, with variegated yarn, this attractive throw features an interesting butterfly stitch pattern.
COATS & CLARK'S "RED HEART" KNITTING WORSTED, 4 Ply (3½ oz. "Tangle-Proof" Pull-Out Skeins): 9 skeins of No. 971 Palette.
Knitting Needles, 1 pair No. 10½, 14-inch length.
Afghan measures 45 x 63 inches
GAUGE: 5 sts = 2 inches; 5 rows = 1 inch.
Starting at narrow edge, cast on 135 sts. K 5 rows for garter st border, de­creasing 22 sts evenly spaced across last row—113 sts. Now work in pat­tern as follows: 1st row: K across. 2nd row: K 3 for garter st border, p across to within last 3 sts, k 3 for garter st border. Next 3 rows: Repeat first, 2nd and first rows. 6th row: K 6, * insert needle in next st in the 6th row below, slip next st off left-hand needle and unravel 5 rows, place the stitch and the 5 strands on left-hand needle and k as one stitch, pulling st up to meas­ure 1 inch—butterfly made; k 3. Repeat from * across to within last 7 sts, make a butterfly, k 6. Next 4 rows: Repeat 2nd and first rows alternately. 11th row: K 4, * make a butterfly, k 3. Repeat from * across, ending with k 4 (instead of k 3). Repeat 2nd through 11th row for pattern. Work even in pattern until total length is about 62 inches, ending with either 6th or 11th row. Next row: K across, increasing 22 sts evenly spaced—135 sts. Next 4 rows: K across. Bind off in knitting. Block to measurements.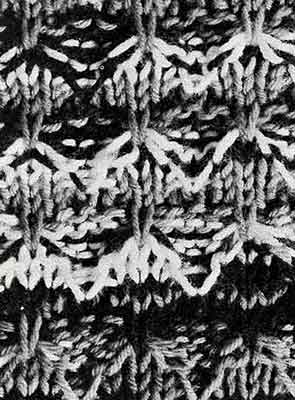 other patterns in leaflet: