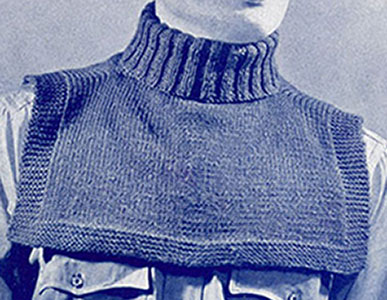 MATERIALS:
CHADWICK'S RED HEART KNITTING WORSTED, 3 skeins (2 oz. skeins).
Milward's Casein Knitting Pins, 1 pair No. 5 (4 mm. size).
4 double-pointed bone knitting needles No. 3 (3 mm. size).
GAUGE: 5½ sts make 1 inch; 7 rows make 1 inch.
With No. 5 needles, cast on 78 sts loosely. Work in garter stitch (k each row) for 1 inch. Keeping first and last 7 sts in garter stitch, work remainder of sts in stockinette stitch (k 1 row, p 1 row), until piece meas­ures 8 inches in all. Next row: Work over first 17 sts, bind off loosely for neck edge the next 44 sts, and fin­ish row. Following row: Cast on 44 sts (loosely) to replace those bound off on previous row. Work straight, as before, until piece measures 15 inches in all, then work all sts in garter stitch for 1 inch. Bind off loosely.
With right side facing, using three double-pointed needles, pick up 96 sts around neck edge (32 sts on each needle). Work around in ribbing of k 2, p 2 for 6 inches. Bind off loosely in ribbing. Press through damp cloth with hot iron.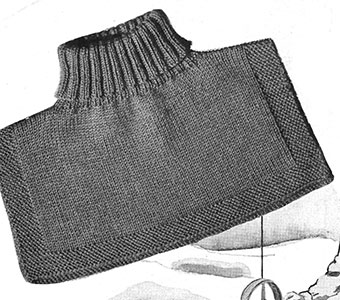 other patterns in leaflet: