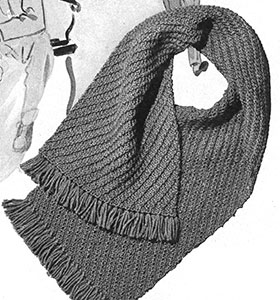 MATERIALS:
CHADWICK'S RED HEART KNITTING WORSTED, 8 balls (1 oz. balls).
Clark's O.N.T. Knitting Pins, 1 pair No. 3.
GAUGE: 6 sts make 1 inch; 8 rows make 1 inch.
Cast on 60 sts loosely. 1st and 2nd rows: K 2, p 2 alternately across. 3rd row: K 1, * p 2, k 2. Repeat from * across, ending with k 1. 4th row: P 1, * k 2, p 2. Repeat from * across, ending with p 1. 5th and 6th rows: P 2, k 2 alternately across. 7th row: Same as 4th row. 8th row: Same as 3rd row.
Repeat these 8 rows until piece measures 40 inches, ending with an odd row of pattern. Bind off loosely in pattern. Press with hot iron through wet cloth.
FRINGE … Cut two strands of yarn, each 6 inches long. Double these strands forming a loop. With crochet hook draw loop through a stitch at one end of scarf, then draw the four ends through loop and pull tight. Make fringe in every other stitch along both short ends of scarf. Trim fringe evenly.
other patterns in leaflet: