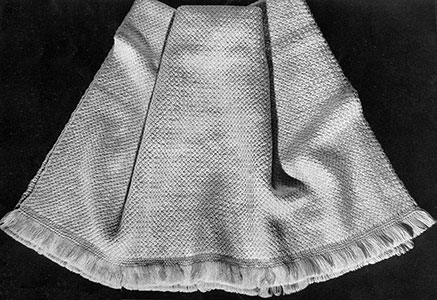 Approximately 34 x 40 Inches Excluding Fringe
MATERIALS:
CHADWICK'S RED HEART BABY WOOL, 21 balls (¾ oz. balls) for blanket, and 2 additional balls for fringe.
Knitting pins, 1 pair No. 10 (6 mm. size).
GAUGE: 5½ sts make 1 inch.
With double strand cast on 190 sts and purl 1 row, then work in pattern stitch as follows: 1st row: K 2, * k in the back of 2nd st on left hand needle, then k in the front of 1st st and allow both sts to slip off left hand needle at once. Repeat from * to last 2 sts, then k 2. 2nd row: P 1, * skip 1 st, p the next st, then p the st which was skipped and allow both sts to slip off left hand needle; repeat from * across ending with p 1. Repeat these 2 rows for pattern until piece measures 40 inches, or desired length. Bind off. Work 1 row of sc along the two short ends. Press lightly on wrong side, through damp cloth with moderate iron. Allow to dry.
FRINGE … Cut a cardboard 4½ x 8 inches (fringe measures 2 inches when finished). With right side toward you attach double strand of yarn to 1st sc on one end. Sc in same place, draw loop on hook out and place it over width of cardboard; * insert hook in next sc and draw through a loop, yarn over and draw through loop on hook, draw loop out and place it over cardboard. Repeat from * until cardboard is covered with loops. Do not break off but with another double strand of yarn make a chain along top edge of cardboard, making a stitch in the top of every two loops. Drop this strand when all loops have been fastened. Insert hook in next sc on edge and continue making loops across, allowing the fastened loops to slip off the end of cardboard. When loops have been made and fastened all along one edge, break off both strands. Pin out smoothly and press lightly. Fold the row of loops in half (to wrong side) and with single strand of yarn whip down the chain-edge to wrong side of blanket. Work fringe on opposite end in same manner.
other patterns in leaflet: