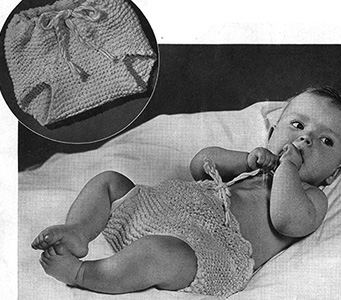 MATERIALS:
CLARK'S O.N.T. COTTON RUG YARN, 2 balls. 3 balls will make 2 soakers.
Clark's O.N.T. Knitting Pins, 1 pair No. 8.
GAUGE: 11 sts make 3 inches; 7 ridges (14 rows) make 2 inches.
Starting at the waistband, cast on 80 sts. 1st row: P across. 2nd row: * K 1, k 2 tog, 0. Repeat from * across, ending with k 2. 3rd row: P across. 4th row: K across. This completes waistband. Now work in garter st (k each row), decreasing 1 st at end of each row until 34 sts remain. Work 1 row straight. Dec 1 st at end of each of next 2 rows. Continue in this manner, working every 3rd row straight (no dec) until all sts have been worked off.
Sew ends of waistband together. Turn point up to bottom of waistband and sew edges together for 5 inches.
CORD … Measure off two 2½-yard strands of yarn. Twist these strands together tightly, then double the twisted strands and give them a second twist in the opposite direction. Tie a knot about 2 inches from both ends of cord to prevent raveling. Turn ends. Run cord through holes in waistband.
other patterns in leaflet: