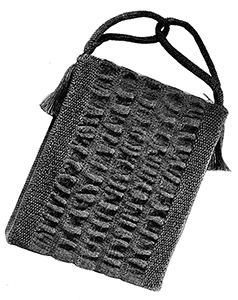 MATERIALS:
J. & P. Coats Knit-Cro-Sheen, 3 balls of any color.
Milward's Phantom Knitting Pins, 1 pair No. 0 (2 mm. size).
An 8-inch slide fastener.
¼ yd. buckram.
¼ yd. lining material.
Gauge: 8 sts make 1 inch; 15 rows make 1 inch.
Side (8 x 9½ Inches) … Starting at side edge, cast on 79 sts and work in moss st as follows: * K 1, p 1. Repeat from * across, ending with k 1. Repeat this row for 1 inch. Then work shirred pattern as follows:
1st row: K across, increasing in each st (158 sts). 2nd row: P across. 3rd to 12th rows incl: Work in stockinette st (k 1 row, p 1 row). 13th row: K 2 tog. across (79 sts). 14th row: P across. 15th to 18th rows incl: Work in stockinette st. Repeat 1st to 18th rows incl. 3 more times, then 1st to 13th rows incl. once more. Now work 1 inch in moss st. Bind off. Make another side.
Gusset … Cast on 15 sts and work in moss st for 27 inches. Bind off.
Handles (Make 2) … Cast on 13 sts and work in moss st for 12 inches. Bind off.
Tassels (Make 2) … Cut a cardboard 4 inches square. Place two 6-inch lengths of thread across cardboard. Wind thread around cardboard 50 times (across 6-inch strands). Pick up both ends of 6-inch lengths and tie securely. Slip tassel off cardboard, wind thread several times around near top, and tie securely.
Fold handle in thirds lengthwise, and sew to within 1 inch of one end, having tassel secured at closed end. Wrap the open end around closed end, and sew (this forms a long loop). Finish other handle in same manner, interlocking both handles before sewing ends of second handle together.
Lining Foundation … Block each piece to measurements given. Cut a piece of buckram to exact measurements of each piece. Cut lining material for each piece, allowing ½ inch extra for seams on all edges. Place buckram over corresponding lining material, fold over seam allowance, baste and machine stitch ⅛ inch in from all edges. Baste and stitch slide fastener across top edges of both Sides, having right side of slide fastener on buckram side of pieces. With neat over-and- over stitches, sew gusset in place along remaining edges of Sides, always having buckram on outside. Trim excess lining. Sew together knitted pieces. Insert foundation into bag, and sew bag to foundation across top edges. Sew tassel ends of handles to tops of gusset.
other patterns in leaflet: