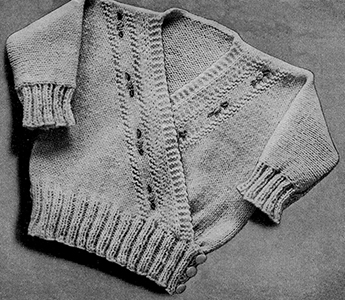 Materials Required–AMERICAN THREAD COMPANY
"DAWN" SHETLAND TYPE FLOSS OR "DAWN" WOOL FLOSS
3 1-oz. Balls White or Colors.
"Star" Mercerized Embroidery Cotton, 2 yds. each Pink and Green.
1 Pr. Bone Knitting Needles No. 3.
3 Buttons.
Gauge–7 sts = 1 inch. 9 rows = 1 inch.
BACK. Cast on 68 sts, and work in ribbing of K 2, P 2 for 2 inches. Change to stockinette st (K 1 row, P 1 row), and work even for 4 inches.
Next 8 Rows–Cast on 7 sts at the beginning of each row and work 3 inches even.
Next Row–On right side, work the first 51 sts and place them on a stitch holder or thread, bind off the next 22 sts for back of neck and K remaining 51 sts.
*Next Row, purl to within the last 18 sts, K 3 sts, P 4 sts, K 3, P 4, K the last 4 sts, turn. K 4 sts, increase in the next st, K to end of row. Repeat from * thus making a border of 4 sts and increasing in every K row at neck edge until sleeve measures 6 inches at wrist edge.
Bind off 7 sts at sleeve edge every other row 4 times continuing pattern and increasing in every K row. Work even at underarm and continue increasing at front edge until front measures same as back to the ribbing ending at front edge and having an even number of sts on needle.
Cast on 4 sts at front edge (band for fastener) and work in ribbing same as back.
Pick up the sts on st holder and beginning at neck edge work other front and sleeve to correspond increasing in the 6th st instead of the 5th.
Pick up 40 sts at lower edge of sleeve and work in ribbing of K 2, P 2 for 1½ inches. Bind off.
Press work under a damp cloth.
Work rambler roses as illustrated.
Sew underarm and sleeve seams.
Crochet a row of s c around back of neck.
Fold right side over left side and crochet: 3 loops on right side at waist line for buttonholes. Sew buttons in position. Finish left side at waist line with snap fasteners.
other patterns in leaflet: