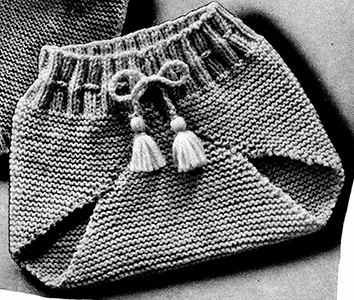 Materials Required–AMERICAN THREAD COMPANY
"DAWN" GERMANTOWN TYPE WOOL OR "DAWN" ZEPHYR WOOL
4 ½-oz. Balls.
1 Pr. Bone Knitting Needles No. 5.
Cast on 120 sts, and work 6 rows of K 2, P 2 ribbing.
Next Row–* K 2, yarn over, P 2 together, repeat from * to end of row and work 6 more rows of ribbing.
The remainder of the work is done in garter st (K each row). Decrease at end of each row until one st remains.
Sew ribbing together. Fold point upwards and sew to each side for about 3 inches leaving opening on each side for leg. Finish with elastic or crochet a cord and tassels as illustrated.
other patterns in leaflet: