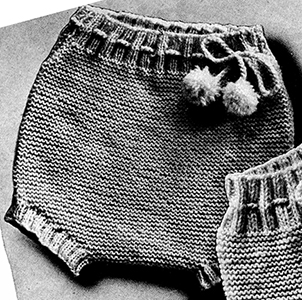 Materials Required–AMERICAN THREAD COMPANY
"DAWN" SHETLAND TYPE FLOSS OR "DAWN" WOOL FLOSS
2 1-oz. Balls White.
1 Pr. No. 1 Knitting Needles.
1 Pr. No. 3 Knitting Needles.
On No. 1 Needles, cast on 64 sts, K 2, P 2 for 6 rows.
Next Row–Work beading * K 2, over, P 2 together, repeat from * and work 6 more rows of ribbing. Change to No. 3 needles and continue work in garter st (K each row). Work 5 inches even then decrease one st at each side of each row until 26 sts remain. K 6 rows even then increase 1 st each side of each row until there are 68 sts on needle, work even for 5 inches and finish with ribbing and beading same as front.
With No. 1 needles and right side of work toward you, pick up 62 sts around leg and K 2, P 2 for ½ inch, bind off. Work other leg to correspond. Fold in half and sew side seams.
With double yarn, crochet a ch about 24 inches long and lace through beading at top. Finish with pompoms.
other patterns in leaflet: