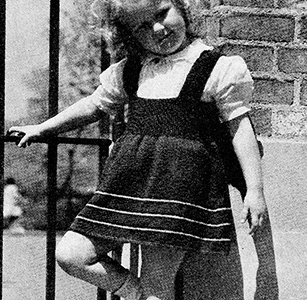 3 or 4 Years
Materials Required–AMERICAN THREAD COMPANY
"DAWN" SHETLAND TYPE FLOSS OR "DAWN" WOOL FLOSS
3 1-oz. Balls Dark Blue, 1 1-oz. Ball each of Cardinal and Amber.
1 Circular Needle No. 3.
Cast on 290 sts, K 1 row, P 1 row then continue in stockinette st working entire skirt even. Work 3 patterns same as circular skirt then work in Dark Blue until skirt measures 10 inches. Next Row–Work 2 sts together all around. Then work 3½ inches in seed st, bind off.
STRAPS. Cast on 13 sts and work in seed st for length desired. Sew to skirt as illustrated.
other patterns in leaflet: