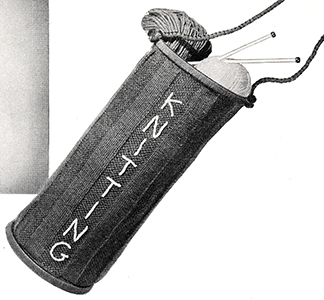 Materials: Clark's O.N.T. or J. & P. Coats Pearl Cotton, size 5, 7 balls of any color.
Clark's O.N.T. or J. & P. Coats Six Strand Embroidery Floss, 2 skeins of a contrasting color.
Milward's Phantom Knitting Pins, 1 pair No. 1 (2½ mm. size).
Milward's steel crochet hook No. 7 or 8.
A pair of circular embroidery hoops, 6 inches in diameter.
Lining material if desired.
Gauge: (Stockinette st) 9 sts make 1 inch; 12 rows make 1 inch.
Side … Cast on 175 sts. 1st row: * K 11, (p 1, k 1) 7 times. Repeat from * across. 2nd row: * (K 1, p 1) 7 times, p 11. Repeat from * across. These 2 rows constitute the pattern. Repeat pattern until piece measures 13½ inches, measuring along stockinette st stripe. Bind off. Block this piece to measure 14 x 20 inches.
Bottom … Ch 2. 1st rnd: 7 s c in 2nd ch from hook. 2nd rnd: 2 s c in each s c around. 3rd rnd: * S c in next s c, 2 s c in next s c (an increase). Repeat from * around. 4th and subsequent rnds: S c in each s c around, making necessary increases to keep work flat, until piece measures 5¾ inches in diameter. Fasten off.
Work a row of s c closely together over each embroidery hoop.
Cord … Measure off 63 strands, each 1 yd. long. Divide strands into 3 groups of 21 strands, and braid.
Holding wrong side of bottom toward you, sew it to s c's of smaller hoop. Starting 1½ inches from top of side piece, with Six Strand embroider a moss st-strip as in illustration (use satin stitch; each letter is 1½ inches high; ¼-inch space between letters). Seam 14-inch edges of this piece; sew lower edge to s c's on small hoop, and upper edge to large hoop. Sew cord to bag.
other patterns in leaflet: