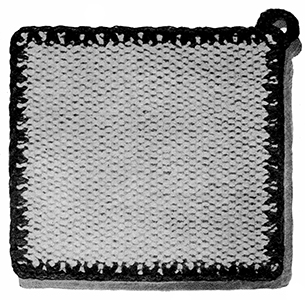 Even a beginner can knit it quickly and easily. You make a square - no decreasing or increasing - and you learn to knit seed stitch. Border is crocheted.
MATERIALS: American Thread Company "Star" Blend Yarn, 1 skein yellow, about 12 yards of blue. Straight aluminum knitting needles No. 2 (standard). English size 11. Steel crochet hook No. 00.
With yellow, cast on 41 sts. Edge stitch: Always sl first st of row, k last st through back of st.
Row 1 (Seed st): Edge st, k 1, p 1 alternately across, ending with k 1, edge st.
Row 2: Edge st, k 1 (over p 1), p 1 (over k 1) alternately across, edge st. Repeat row 2 for pattern until square is completed. Bind off in pattern. Fasten off.
EDGING: With blue, make lp on hook, join in 2nd st of 2nd row, draw up lp, * sk 2 sts, draw up lp in next st, draw lp through 3 lps on hook, ch 2, sk 1 st, draw up lp in next st; repeat from * across, ch 2, 1 s c in corner st, ch 2, draw lp in same st as last lp. Finish remaining sides to correspond, join in first ch.
LOOP: Ch 8, drop lp from hook, draw through sp before corner s c, ch 1, work 10 s c in ring, join. Fasten off. Steam.