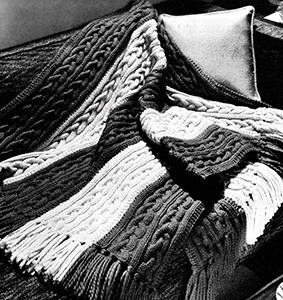 Quick-knit bulky afghan worked in strips which are then sewn together.
Afghan measures 42 x 64 inches.
COATS & CLARK'S RED HEART "TURBO-KNIT," 2 Ply, Art. E. 274 (2 oz. folded skeins): 24 skeins of No. 835 Periwinkle and 17 skeins of No. 802 Baby Blue.
Knitting needles, 1 pair No. 10.
GAUGE: 5 rows = 1 inch.
Each strip measures 8½ x 64 inches.
STRIP (Make 3 strips with Periwinkle and 2 strips with Baby Blue) … Starting at narrow edge, cast on 36 sts. 1st row: (P 2, k 2, p 2, k 9) twice; p 2, k 2, p 2. 2nd row: P 4, k 2, p 9, k 2, p 2, k 2, p 9, k 2, p 4. 3rd and 4th rows: Repeat first and 2nd rows. 5th row: (P 2, k 2, p 2, make a cable—to make a cable, slip next 3 sts on a double-pointed needle and hold in back of work; k next 3 sts; bring the double-pointed needle to front of work, k next 3 sts; k the 3 sts from double-pointed needle) twice; p 2, k 2, p 2. 6th row: Repeat 2nd row. 7th to 14th rows incl: Repeat first and 2nd rows alternately. Repeat 5th to 14th rows incl for pattern. Work in pattern until total length is 64 inches, ending with 9th row of pattern. Bind off.
Block each strip. Starting and ending with a Periwinkle strip sew strips together lengthwise alternating colors. Press. With Periwinkle and wrong side facing, sl st along both long ends.
FRINGE … Cut 6 strands of yarn, each 16 inches long (for 1 fringe). Make 9 Plain Fringes evenly spaced across both narrow edges of each strip, matching colors.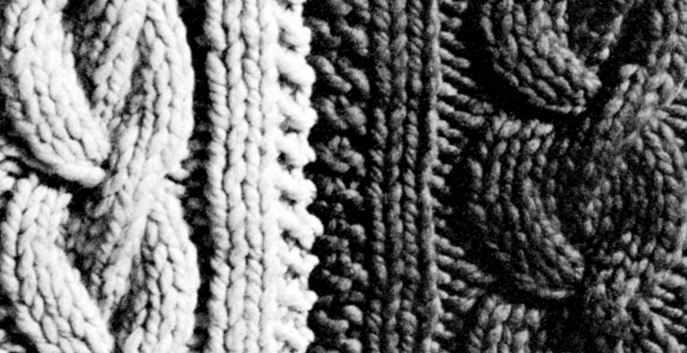 other patterns in leaflet: