This free pattern originally published by Columbia-Minerva Corporation as Columbia-Minerva Afghan Book, Volume 722.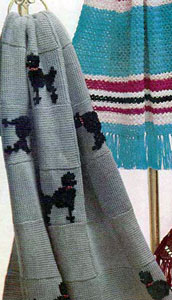 Approximate Size: 50" x 64"
Materials Required:
Columbia-Minerva Knitting Worsted (4 oz. skein)
Main Color, 9 Skeins
Black for Poodles, 1 Skein
Red for Collar of Poodles--1 Skein or a few strands
--OR--
Columbia-Minerva Nantuk 4 Ply Knitting Yarn
(Knitting Worsted Size--2 or 4 oz. skein)
Main Color, 36 oz.
Black for Poodles, 4 oz.
Red for Collar of Poodles--2 ozs. or a few strands
32 Rhinestones for Collar and Eyes
For Knitted Afghan:
Knitting Needles: 1 Pair "Boye" Size 10 1/2--10 inch
Gauge: 3 1/2 Sts. to 1 inch, 5 Rows to 1 inch
1 "Boye" Non-Inflammable Crochet Hook "I" --9 inch
1 "Hiawatha" Blunt End Tapestry Needle
Knitted Afghan
Square: With Main Color cast on 26 Sts. Work in Stockinette St. for 34 rows, bind off.
To Embroider Squares: Starting at lower part of Poodle on 4th row of Square instead of 2nd row as indicated on Chart, embroider. Following Chart for placement of Sts., work entire Poodle in Duplicate St. as Follows: (French Knots and Red Collar are made over the duplicate St. later) Thread Tapestry Needle with Black yarn and fasten on wrong side of work. *Insert needle in center of St. and draw yarn through to right side of work, then insert needle under the 2 strands of yarn of St. above and draw yarn through, then insert needle in center of same St. below and draw yarn through to wrong side of work, repeat from *. With double strand of Black, work French Knots over Sts. as indicated on Chart.
With single strand of Red work the 3 Sts. of Collar in Duplicate St. Sew 3 Rhinestones on Collar and 1 for eye. Embroider 8 Squares in this manner.
To Join Squares: Sew Squares together, 7 Squares in width and 9 Squares in length, alternating direction of Squares (all 4 corner Squares are upright) and placing embroidered Squares as illustrated or as desired. With Main Color work 1 row of S.C. around entire Afghan, working 3 S.C. in each corner to keep flat.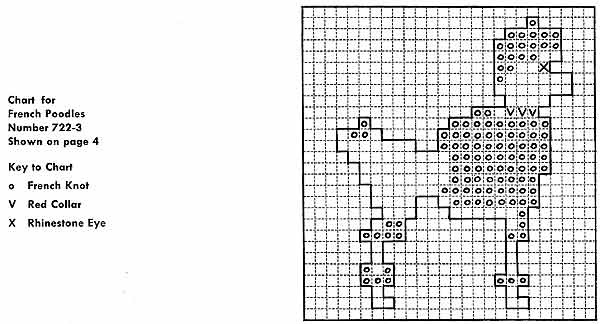 Other great patterns from Columbia-Minerva Afghan Book, Volume 722:
Knitting Patterns
Dutch Tile Afghan
French Poodles Knitted Afghan
Knitted Zig Zag Afghan
Tone-O-Rama Panel Afghan
Crochet Patterns
3 Way Modern Mt Vernon Triangle Afghan
3 Way Modern Mt Vernon Floral Afghan
3 Way Modern Mt Vernon Square Afghan
Chinese Screen Afghan
Colony Afghan
Crocheted Zig Zag Afghan
French Poodles Crochet Afghan
Herringbone Afghan
Hi-Fi Companions Afghan
Jamaica Ginger Afghan
Lancaster Afghan
Roman Stripe Afghan
Star Shell Afghan