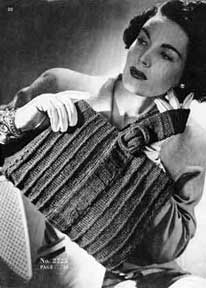 MATERIALS: CHADWICK'S RED HEART KNITTING WORSTED, 6 balls (1 oz. balls) of Paddy Green ... Knitting Pins, 1 pair No. 4 (3 ½ mm. size) ... 2 belt buckles ... ¾ yard each of buckram and felt for lining.
GAUGE: 5 ½ sts make 1 inch; 7 rows make 1 inch.
BAG PIECE (Make 2) ••• Starting at center, cast on 120 sts. 1st row: K across. 2nd row: P across. 3rd to 6th rows incl: Repeat 1st and 2nd rows. 7th and 8th rows: K across. These 8 rows constitute Pattern. Work in pattern until 6 ridges have been made, ending with 2nd row.
To Shape Gusset: 1st row: K 69, k 2 tog, turn. 2nd row: P 19, P 2 tog, turn. 3rd row: K 19, k 2 tog, turn. Working in pattern, repeat 2nd and 3rd rows of Gusset until 48 sts remain. Then k 3 tog (instead of k 2 tog) until 20 sts remain. Bind off.
HANDLE ••• Cast on 14 sts. Work in pattern until Handle measures 36 inches. Bind off.
Block and press bag pieces and handle. Turn bag pieces inside out and make paper pattern to fit exactly. Cut buckram from pattern, cut lining ½ inch larger all around. Sew lining pieces over buckram, turning back ½ inch allowance all around. Sew bag pieces together at cast on edges, working from wrong side. Sew both bag pieces and lining pieces together. Turn bag right side out, blind st lining in place. Fold top of gusset toward inside of bag and sew in pleat at top. Line handle with buckram and lining material. Cover buckles with buttonhole stitch and slip over handle. Sew handle over center seam of bag, moving buckles to top of bag. Sew short ends of handle together.
other patterns in leaflet: