This free pattern originally published by Columbia Minerva as Afghans by Columbia Minerva , Volume No. 742.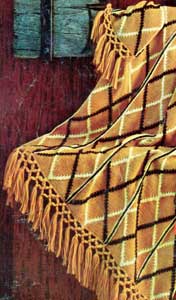 Approximate Size: 49" x 60"
MATERIALS REQUIRED:
Columbia-Minerva Nantuk 4 ply Knitting Yarn (Knitting Worsted size-2 or 4 oz skein)-32 ounces Main Color (MC) and 4 ounces each of Colors 1 and 2
OR
Columbia-Minerva Knitting Worsted (4 oz skein) 8 skeins Main Color (MC) and 1 skein each of Colors 1 and 2)
KEY TO COLORS ILLUSTRATED:
Knitting
Worsted

Nantuk
4 ply

Main Color-Gold

#5028

#5215

Color 1-Black

#5023

#5212

Color 2-White

#5000

#5207
Knitting Needles: 1 pair "Boye" Size 10, 4 bobbins and 1 Steel Crochet Hook Size 1
Knitting Chart
Gauge: 4 sts to 1 inch, 11 rows to 2 inches
ONE PANEL: (Make 6 the same) Wind 2 bobbins each of Colors 1 and 2. With MC cast on 34 sts. Work in plaid pat from chart, joining bobbins and being careful to twist yarn when changing color to prevent holes. Repeat the 64 rows of chart 4 times more, bind off.
TO JOIN: Matching design and holding 2 panels with wrong sides tog, with Color 1 work 1 row of sc through st at edge of both panels. Join remaining panels in same manner. With Color 1 work 1 row of sc at side edges. On each side of Color 1 joining and at inside of each side edge, with Color 2 work 1 row of sl st. Break yarn and fasten.
TRIPLE KNOT FRINGE: Cut MC into 20 inch lengths. Using 6 strands, fold and knot in 1st, then about every 5th st at each end of Afghan. Divide strands and knot again across each end. Divide strands and make another row of knots.
Other great patterns from Afghans by Columbia Minerva, Volume 742:
Knitting Patterns
Plaid Afghan
Feather and Fan Afghan
Rosebud Afghan
Red and White Striped Afghan
Blue and White Afghan
Leaf Pattern Afghan
Garter Stitch Afghan
Knitted Striped Afghan
Crochet Patterns
Rose Afghan
Crocheted Striped Afghan
Flower and Fruit Afghan
Crocheted Ripple Afghan
Patchwork Afghan
Daisy Afghan
Two Tone Block Afghan
Black Afghan with Roses
Loop Stitch Motif Afghan