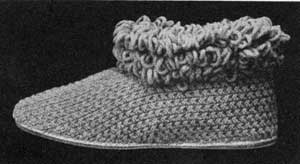 MATERIAL-4 skeins of color Woolco Germantown Zephyr. 3 steel needles No. 14. No. 3 ½ Woolco hook. ¾-yard elastic.
Cast on 16 stitches.
1ST AND 2D ROWS-*Knit 2, purl 2.* Repeat across row.
3D AND 4TH ROWS-*Purl 2, knit 2.*
5TH AND 6TH ROWS-Increase 1 stitch at beginning of row.
7TH ROW-Even.
8TH AND 9TH ROWS-Same as 5th-6th rows.
10TH ROW-Even.
Continue increasing this way until there are 60 stitches.
Knit 22 stitches, place on an extra needle, bind off 16, knit 22 stitches.
Knit 68 rows even. Bind off.
Pick up the stitches from extra needle, knit same as other side. Join.
Make 1 double crochet, 1 chain in every 3d row around top.
Then 2 rows of single crochet in every stitch.
TOP-Cast on 8 stitches.
Knit 1 row.
2D ROW-Slip 1, *put needle in next stitch, wrap yarn over needle and 1st finger 3 times. Knit off. Knit the next stitch. * Repeat between *'s to end of row.
3D ROW-Knit plain.
Repeat 2d and 3d rows until the band is long enough for top. Join.
Sew to 1st row of single crochet.
Lace elastic in spaces.
other patterns in leaflet: