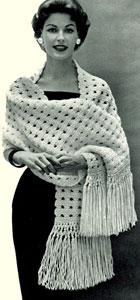 20 inches x 66 inches without fringe
Materials Required:
AMERICAN THREAD COMPANY
"DAWN" KNITTING WORSTED
20 ounces White or color of your choice
1 pr. knitting needles No. 10
Gauge: 9 garter sts = 2 inches
Cast on 84 stitches (sts) and work in pattern as follows:
1st, 2nd, 3rd and 4th Rows: Knit (K) across each row.
5th Row: * Insert needle in st, yarn over (y o) needle 3 times, pull through st, slip (sl) st off needle, repeat from * across row.
6th Row: * Sl 6 sts on right hand needle dropping the y o's, sl them hack on left hand needle by inserting needle in 3rd, 2nd and 1st st in front of work passing them over the last 3 sts, then sl the last 3 sts on left hand needle (thus twisting sts), K 6 sts picking up hack loop of each st, repeat from * across row.
Repeat these 6 rows for pattern until stole measures 66 inches from beginning ending with the 4th row of pattern, bind off.
Fringe: Wind yarn over a 14 inch cardboard, cut one end. Using 3 strands, double in half and knot fringe in every other st across each end.
* Take half of one group of fringe and half of next group of fringe, knot together ¾ inch from 1st row of knots, repeat from * across row, then repeat from 1st * for another row of knots. Trim fringe evenly. Finish other end in same manner.
Other great patterns from Star Stoles Book, Book 133:
Knitting Patterns
Adagio Shawl
Allegro Shawl
Contralto Shawl
Crescendo Shawl
Harmony Shawl
Metron Shawl
Minuet Shawl
Sonata Shawl
Craft Patterns
Crochet Patterns