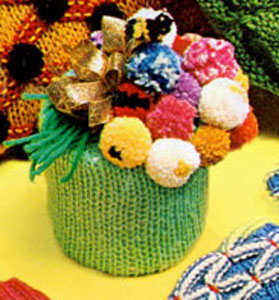 COATS & CLARK'S "RED HEART" KNITTING WORSTED, 4 Ply ("Tangle-Proof" Pull-Out Skeins): 2 ounces of No. 679 Nile Green; ⅓ ounce of No. 676 Emerald Green. 7 yards of assorted variegated colors for each of 4 pompons; 7 yards of assorted plain colors for each of 11 pompons; 10 inches of contrasting colors for each center of 8 pompons.
Knitting needles, 1 pair No. 10.
⅔ yard elastic thread.
2 yards of gold metallic ribbon.
GAUGE: 3 sts = 1 inch; 6 rows = 1 inch.
COVER ... Starting at lower edge with Nile Green, cast on 43 sts. Work in stockinette st (k 1 row, p 1 row) for 4½ inches, ending with a p row. Next row: K 1, (place a marker on needle, k 2 tog, k 5) 6 times—6 sts decreased. Following row: Slipping markers, p across. Next row: K 1, * slip marker, k 2 tog, k to next marker. Repeat from * across. Repeat last 2 rows until 13 sts remain, ending with a p row. Next row: Removing mark­ers, k 1, (k 2 tog) 6 times. Break off, leav­ing a 10-inch length of yarn. Thread into a needle and draw through remaining 7 sts. Pull up tightly. Sew side edges to­gether. Fold elastic thread in half and draw through sts at lower edge of Cover. Pull up tightly to fit over tissue roll and tie ends together.
POMPON (make 4 of variegated colors and 3 of plain colors) ... Cut 2 cardboard circles, each 2 inches in diameter. Cut a hole ¾ inch in diameter in center of each circle. Cut two 3½-yard lengths of one color. Place cardboard circles to­gether and wind double strands of yarn around the double circles, drawing yarn through center opening and over edge un­til center hole is filled. Cut yarn around outer edge between the 2 circles. Cut a 10-inch length of Emerald Green. Double this strand and slip between 2 cardboard circles and tie securely around strands of pompon. Using the Emerald Green strands for stems, trim the ends of the pompon evenly.
Contrasting Color Pompon (make 8) ... Working same as for previous Pompons, cut two 5-inch lengths of a color. Wind these strands around the cardboard cir­cles as before, pushing strands closely together. Cut two 3¼-yard lengths of a contrasting color and continue to wind them over the circles until the center hole is filled. Complete as for previous Pompons.
Form a rosette of the ribbon by mak­ing twelve 2½-inch loops with 2 free ends. Sew base of loops together. Ar­range the pompons to form a corsage. With stems hanging free, sew corsage and rosette to top of cover as shown. If desired trim with a little bee or butterfly.
other patterns in leaflet: