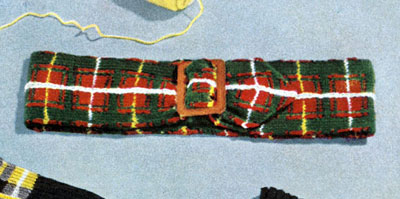 MATERIALS:
Chadwick's Red Heart Sock and Sweater Yarn, 3 Ply, Art. E.255, Shrink and Stretch Resist, 1 skein (1 oz. pull-out skein) each of Paddy Green and Scarlet. A few yards of Yellow and White.
Milwards "Phantom" Aluminum Double-pointed Sock Needles or Clark's O.N.T. Plastic Double-pointed Sock Needles, 1 pair No. 3 (3 mm. size).
1½ yards of grosgrain ribbon, 3½ inches, wide for lining … Buckle … Bobbins.