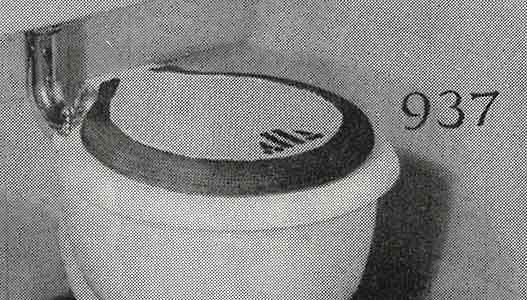 Materials: Clark's O.N.T. Knitting and Crochet Cotton, 2 balls of a light color and 2 balls of a dark color.
Milward's Casein knitting pins, 1 pair No. 2 (2¾ mm. size).
Milward's steel crochet hook No. 1.
1½ yds. of tape.
Gauge: 6 sts make 1 inch; 10 rows make 1 inch.
Starting at back edge, with 3 strands of light color, cast on 12 sts. 1st and 2nd rows: * K 1, p 1. Repeat from * across. 3rd and 4th rows: * P 1, k 1, repeat from * across. Repeat these 4 rows, increasing 1 st at end of each row until there are 52 sts on needle, then 1 st at both ends of every 6th row 6 times (64 sts). Now decrease 1 st at both ends of every 7th row 5 times, every other row 5 times, and every row thereafter until 12 sts remain. Bind off.
Border. With 2 strands of dark color, make a chain as long as the measurement around outer edge of cover, omitting back edge; turn. 1st row: S c in 3rd ch from hook, s c in each ch across. Ch 2, turn. 2nd row: S c in each s c across. Sew foundation chain along outer edge of cover (omitting back). Then repeat 2nd row for 2 inches, making increases where necessary to keep work flat and back edge straight. Hereafter work straight until border measures 3 inches, then work as follows: * ch 4, sl st in 4th row on wrong side and 4 sts to left, ch 4, sl st in 6th st of last st at top edge. Repeat from * around, except back edge. Break off. Run tape through casing.
Trimming Motif. With dark color, work as for Towel Edging Pattern, No. 8187, making ch-20 instead of ch-25 for vertical strips, and ch-8 instead of ch-10 for triangles.
other patterns in leaflet:
Bath Mat Pattern
Wash Cloths Pattern
Seat Cover Pattern
Women's Gloves Pattern
Men's Gloves Pattern
Polo Shirt Pattern
Knitting Bag Pattern
Baby Bib Pattern
Pot Holder Pattern
Bag Pattern
Belt Pattern, No. 2262
Beret Pattern
Handbag Pattern
Hair Band Pattern
Baby Sacque Pattern
Luncheon Set Pattern
Tie Backs Pattern, No. 944
Tie Backs Pattern, No. 945
Towel Edging Pattern, No. 8187
Collar Pattern, No. 2253
Belt Pattern, No. 2257
Knitting Bag Pattern
Coat Hanger Pattern
Tumbler Muff Pattern, No. 943
Stem Glass Muff Pattern, No. 942
Tumbler Muff Pattern, No. 947
Stem Glass Muff Pattern, No. 941
Towel Edging Pattern, No. 8189
Towel Edging Pattern, No. 8188
Towel Edging Pattern, No. 8190
Belt Pattern, No. 2252
Kerchief Pattern, No. 2238
Kerchief Pattern, No. 8192
Boutonniere Pattern, No. 435
Boutonniere Pattern, No. 439
Hot Plate Mat Pattern
Pot Holder Pattern
Collar Pattern, No. 2260
Handkerchief Edging Pattern, No. 8191
Handkerchief Edging Pattern, No. 8193
Handkerchief Edging Pattern, No. 8194
Chair Set Pattern
Boudoir Pillow Pattern
Tie Backs Pattern, No. 946