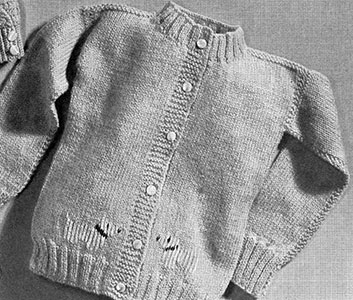 SIZE 3
MATERIALS: Chadwick's Red Heart Shetland Floss, 4 balls (1 oz. balls).
Clark's O.N.T. or J. & P. Coats Six Strand Embroidery Floss, 1 skein each of 2 colors.
Milward's Phantom Knitting Pins, 1 pair No. 3 (3 mm. size).
6 small buttons.
Gauge: 7 sts make 1 inch; 9 rows make 1 inch.
BACK … Starting at bottom, cast-on 60 sts and work 1¼ inches in ribbing of k 2, p 2. Next row: K across. Following row: K 2, p across, ending row with k 2. Repeat last 2 rows alternately until piece measures 12½ inches. Next row: K 17, bind off 26 sts (back of neck), k 17.
LEFT FRONT … Work over last 17 sts in garter st (k each row) for ¾ inch. Then work in stockinette st. keeping the 2 sts at outer edge in garter st and casting on 3 sts every other row at opposite edge (neck edge) 4 times. At end of next k row, cast on 9 sts (38 sts). Continue over these 38 sts until piece measures same as Back, keeping the 6 sts at front edge and the 2 sts at opposite edge in garter st. Bind off.
RIGHT FRONT … Attach yarn at neck edge and work to correspond with Left Front, making a buttonhole 2 sts in from front edge after the 1st 1½ inches and every 2¼ inches thereafter, until 5 buttonholes are made—to make a buttonhole, on one row bind off 2 sts; on next row, cast on 2 sts to replace those bound off.
SLEEVES … Starting at bottom, cast on 44 sts and work 2 inches in ribbing. Then work 9 inches in stockinette st, keeping the 2 sts at both ends in garter st. Bind off.
NECK BAND … With right side toward you, pick up 80 sts around neck edge and work 1 inch in ribbing, making a buttonhole after the 1st ¼ inch. Bind off. Sew up side seams, leaving an opening of 4 inches at top for sleeves.
Sew up sleeve seams and sew in sleeves. Sew on buttons. Work a row of s c along front edges. Trace actual size scottie (below). Embroider in chain stitch, using 2nd color for eye, nose and collar.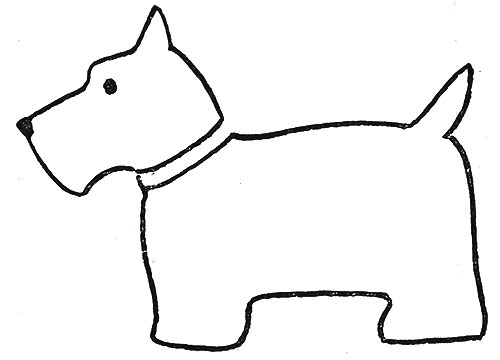 other patterns in leaflet: