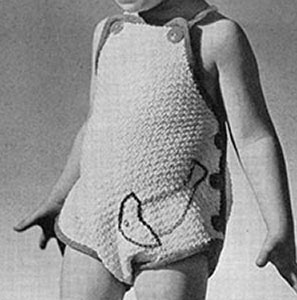 Size 2 Years
Materials: J. & P. Coats Knit-Cro-Sheen 3 balls of main color and 1 ball of a contrasting color. Clark's O. N. T. or J. & P. Coats Six Strand, 1 skein each of any 2 colors desired for embroidery. Milward's Casein knitting pins, 1 pair No. 3 (3 mm. size). 8 buttons ¾ inch in diameter.
Gauge: 7 sts make 1 inch; 9 rows make 1 inch. A double thread is used throughout the entire suit.
Back. Starting at bottom, cast on 28 sts. 1st and 2nd rows: * K 2, p 2, repeat from * across. 3rd and 4th rows: * P 2, k 2, repeat from * across. These 4 rows constitute the pattern. Repeat these 4 rows, increasing 1 st at beginning of each row until there are 44 sts on needle. Then increase 1 st at both ends of each row until there are 104 sts on needle. Work in pattern straight until work measures 9¼ inches in all, measuring at center. Then to shape waistline, work in pattern across 1st 42 sts, bind off 20 sts, and continue in pattern across remaining 42 sts. Hereafter work over these 42 sts binding off 6 sts every other row at center of waistline (keeping outside edge straight) until all sts are bound off. Break off. Attach thread at opposite side of waistline and work to correspond.
Front. Starting at bottom, cast on 28 sts and work in pattern as for back until there are 44 sts on needle. Then increase 1 st at both ends of each row until there are 94 sts on needle. At the beginning of each of next 2 rows cast on 5 sts (104 sts). Hereafter work in pattern decreasing 1 st at both ends of every 3rd row 16 times and at the same time making a buttonhole 3 sts in from each edge after the first inch from the 5 sts cast on and every 2 inches thereafter until 3 buttonholes are made (To make a buttonhole, on one row bind off 4 sts; and on the next row cast on 4 sts to replace those bound off). Continuing in pattern decrease 1 st at end of each row until 54 sts remain. Then decrease 1 st at both ends of every 3rd row until 36 sts remain. Work straight until work measures 16 inches in all. Bind off. Sew back and front together at bottom.
Waistband: Cast on 84 sts and work in pattern for 1 inch. Bind off.
Binding. With contrasting color (single thread), cast on 8 sts and work in stockinette st (k 1 row, p 1 row) until binding is long enough to go around all edges of suit except waistline of back. Bind off. Double the binding and sew to edges.
Make 2 darts at back and sew waistband to waistline. Sew buttons on to correspond with buttonholes. Button sides, then tack back and front together below 1st buttonhole. Attach thread to the binding on wrong side of front ¼ inch up from last buttonhole and ch 14, sl st in same place where thread was joined. Break off. Make another loop at opposite side of front to correspond.
Cords. For a cord 33 inches long, measure off about thirty 3-yd. lengths of main color, twist together, then double the twisted strands and give them a second twist in the opposite direction. Make another same as this. Sew cords on, one at each side of front on wrong side, cross them at back, then pull through loops and tie. Sew a button on each side of front at top as in illustration. Embroider fish design as in diagram, using thread double and working it in chain stitch, head in one color and body in the other color.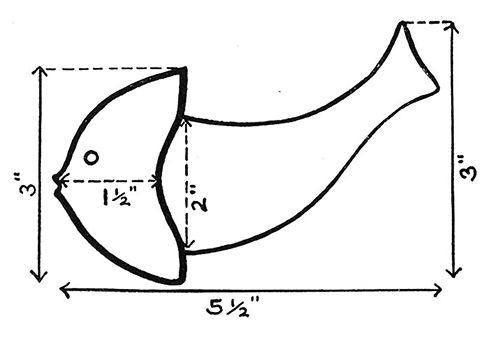 other patterns in leaflet: