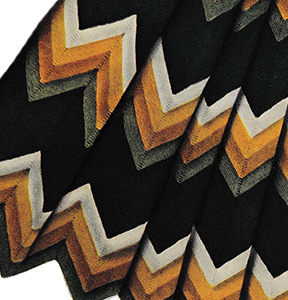 Approximately 52 x 78 Inches
MATERIALS: Chadwick's Red Heart Afghan Wool, 27 skeins (1 oz. skeins) of Antique Green, and 9 skeins each of Lichen Green, Old Gold, Golden Fleece and White.
Milward's Phantom Knitting Pins, 1 pair No. 6 (4¼ mm. size).
Gauge: 6 sts make 1 inch; 10 rows make 1 inch.
PATTERN STITCH … Cast on 66 sts. 1st row: Inc. in 1st st, k 30, k 2 tog. twice, k 30, inc. in last st. 2nd row: K across.
Repeat pattern, working colors as follows: * 8 ridges (16 rows) of Lichen Green, 8 ridges Golden Fleece, 8 ridges Old Gold, 8 ridges White and 29 ridges of Antique Green. Repeat from * 3 more times; now work 8 ridges each of Lichen Green, Golden Fleece, Old Gold, White, and Antique Green. Bind off. Make 5 more strips like this. Sew together with neat over-and-over stitches, matching stripes.
other patterns in leaflet: