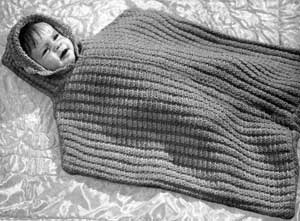 MATERIALS REQUIRED
American Thread Company "Dawn" Knitting Worsted
10—2 oz. Skeins. White or Colors
1 Pr. #3 Bone Knitting Needles, 14 inches long
1—20 inch Talon Slide Fastener
Gauge
7 sts = 1 inch; 8 rows = 1 inch
Pattern.
1st Row. K 3, P 2.
2nd Row. K 2, P 3. K 2 rows.
BACK. Cast on 140 sts and work in pattern for 23 inches.
Next 6 Rows. Bind off 4 sts at the beginning of each row.
Next 17 Rows. Bind off 4 sts at the beginning of each row, at the same time when there are 90 sts on needle, bind off 4 sts, K 31, sl sts on a st holder, bind off 20 sts for back of neck, work to end of row, continue shoulder decreases and at neck edge bind off 5 sts every other row 3 times and work until all the shoulder decreases have been made. Work other side to correspond.
FRONT. Cast on 70 sts and work pattern for 23 inches. Shape shoulder same as back shoulder. Keep front edge even for 6 rows then bind off 4 sts twice, 3 sts 3 times and 2 sts twice and work even until all shoulder sts are worked off. Work other front to correspond.
HOOD. Cast on 90 sts and work even for 1 inch. Increase one st every 5th row 10 times, taking care to keep pattern straight. K even until work measures 8 inches and bind off. Fold hood having bound off edges together and sew firmly. Sew fronts and backs together and attach hood, easing in any fulness to fit.
Join fronts with a Talon Slide Fastener. Line with silk if desired. This Baby Bunting may also be made in "Dawn" Germantown Wool.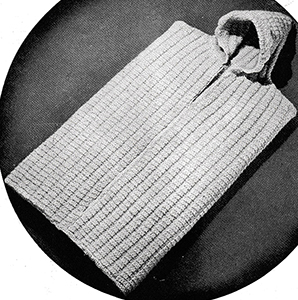 other patterns in leaflet: