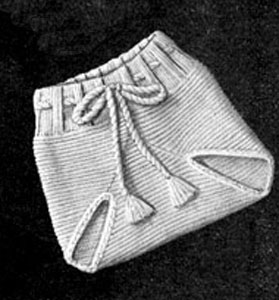 Size 3-6 months
Size 6 months - 1 year in parenthesis
MATERIAL:
1 ball Sportyarn (2 oz. ball)
1 pair knitting needles each No. 2 and No. 4
1 crochet hook No. 3
Cast on 108 sts. (116) with No. 2 needles and work in ribbing K2, P2 for 4 rows. Next row * K2, yarn over, P2 tog., repeat from * across row. Continue K2, P2 until piece measures 2 inch. Change to No. 4 needles and garter st., incr. 8 sts. across next row at even intervals. With 116 (124) sts. work even for 10 (12) rows, then decr. 1 st. at beg. of each row until 1 st. is left. Fasten off.
FINISHING: Sew up ribbing and first 10 rows (12 rows) of garter st. Fold panty with point meeting the seam. Sew 2½ inch, on each side of point of panty. With 3 strands of yarn chain a cord 26 inch., pull through beading row and make tassel at each end.
Other great patterns from Classic Fashions in Wool, Book No. 55.
Knitting Patterns
Mother and Daughter Sweaters
Twin Sweater Set
Classic Baby Set
Lacey Set
Man's Heavy Shaker Sweater
Baby Jacket
Bed Jacket
Classic Sweater Set
Boy's Sleeveless Sweater
Boy's Shaker Sweater
Classic Cardigan
Classic Slip-On Sweater (Long Sleeves)
Classic Slip-On Sweater (Short Sleeves)
Men's Cardigan
Men's Sleeveless Sweater
Child's Slip-On
Cardigan
Soaker
Surplice Sweater
Sacque with Ruffled Edge
Man's Slip-On Sweater
Lady's Cardigan
Slip-Over Sweater (Sizes 6-8 years)
Slip-Over Sweater (Sizes 10-12 years)