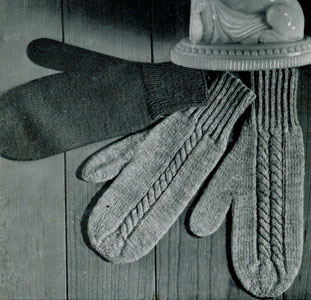 Materials Required:
AMERICAN THREAD COMPANY
"DAWN" DE LUXE FINGERING YARN or "DAWN" NYLON
2 ounces Buff Heather or Sand or color of your choice
4 Double Pointed Knitting Needles No. 1
5 Double Pointed Knitting Needles No. 2
OR ANY SIZE NEEDLES WHICH WILL RESULT IN STITCH GAUGE BELOW
GAUGE FOR NO. 2 NEEDLES: 8 sts = 1 inch
With No. 1 needles cast on 56 sts and work ribbing same as Plain Mittens or in K 2, P 2 ribbing as illustrated. Change to No. 2 needles and work 8 rounds in pattern as follows: 1st, 2nd, 3rd and 4th ROUNDS: K 7, P 2, * K 6, P 2, repeat from * once, K to end of round. 5th ROUND: Cable twist. K 7, P 2, * sl next 3 sts on dpn and hold in front of work, K next 3 sts, then K 3 sts from dpn, P 2, repeat from * once, K to end of round working pattern over the sts of back of mitten only. Work thumb gusset same as Plain mitten until there are 21 sts in thumb gusset, then work even in pattern for 3½ inches or 1¼ inches less than desired length. Discontinue cable pattern and complete mitten same as plain mitten.
Work other mitten in same manner re­versing thumb (inc in 8th and 10th st after pattern for gusset).
Other great patterns from Socks Socks Socks and Mittens, Too, Book No. 169.
Knitting Patterns
Four Needle Socks
Four Needle Mittens
Single Cable Socks
Double Cable Socks
Single Cable Mittens
Double Cable Mittens
Knitted Glove
Knitted Twist Socks
Matched Set Knitted Scarf
Matched Set Knitted Mittens
Matched Set Knitted Socks
Sport Set Socks
Sport Set Mittens
Sport Set Cap
Diamond Socks
Argyle Socks
Two Needle Mittens
Two Needle Socks
Mock Cable Socks
Mock Cable Mittens
Crochet Patterns
Add-A-Square Mittens
Child's Crocheted Mittens
Ladies' Crocheted Mittens