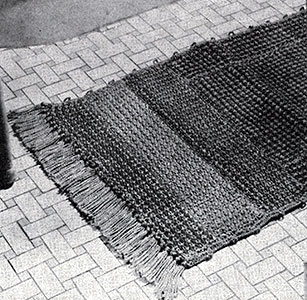 Materials:
Clark's O.N.T. Knitting and Crochet Cot­ton, 2 balls (or J. & P. Coats Crochet Cord, 5 balls).
J. & P. Coats Bias Trim, double fold, 5 pkgs. of one color (referred to as Color A in instructions); 3 pkgs. of a second color (Color B); 2 pkgs. of a third color (Color C).
1 pair bone knitting needles No. 4.