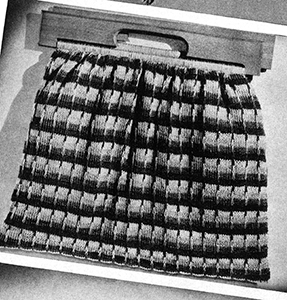 Materials: Clark's O.N.T. or J. & P. Coats Pearl Cotton, size 5, 3 balls each of Light Blue, Dark Blue, Red and Ecru.
Milward's Phantom Knitting Pins, 1 pair No. 1 (2½ mm. size).
A pair of wooden knitting bag handles.
½ yd. sateen lining material.
Gauge: 9 sts make 1 inch; 12 rows make 1 inch.