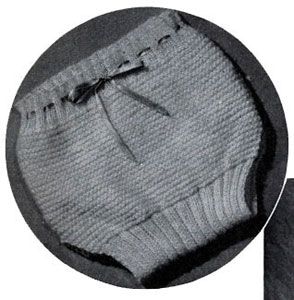 MATERIALS:
CHADWICK'S RED HEART BABY BUNT­ING, 3 balls (¾ oz. balls).
Clark's O.N.T. Knitting Pins, 1 pair No. 2 and 1 pair No. 5.
1 yard narrow ribbon.
GAUGE: (Garter Stitch) 11 sts make 2 inches.
Starting at waistband, with No. 2 needles cast on 78 sts. Work in ribbing of k 2, p 2, for 1½ inches, decreasing 22 sts evenly across last row (56 sts). Change to No. 5 needles, attach another strand of yarn and, with double yarn, work in garter st (k each row) until piece measures 7 inches in all. Now work in ribbing of k 2, p 2 for 5 inches. Then work in garter st for 5½ inches, increas­ing 22 sts evenly on last row. Break off 1 strand of yarn, change to No. 2 needles and work in ribbing of k 2, p 2 for 1½ inches. Bind off in ribbing.
Starting at top of waistband, sew side seams together for 7 inches, measuring along side edge. Run ribbon in and out through center of waistband ribbing.
other patterns in leaflet: