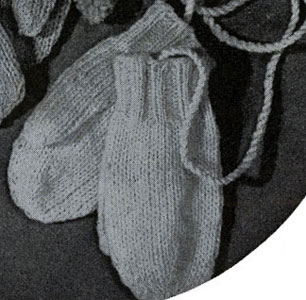 MATERIALS:
CHADWICK'S RED HEART BABY POM­PADOUR, 1 ball (¾ oz. ball).
Clark's O.N.T. Plastic Sock Needles, 1 set No. 1 and 1 set No. 4.
GAUGE: (Stockinette Stitch) 7 sts make 1 inch; 10 rnds make 1 inch.
Starting at wrist, cast on 32 sts onto three No. 4 needles. Join, being careful not to twist sts. 1st rnd: With No. 1 needles, * k 2, p 2. Repeat from * around. Repeat 1st rnd until piece meas­ures 1¼ inches. Change to No. 4 needles.
HAND … Work around in stockinette st (k each rnd) for ¾ inch. Next rnd: Drop yarn; with contrasting color thread for thumb marker, work across first 5 sts. Drop marker, slip these last worked sts back onto left-hand needle, pick up yarn and k across the same 5 sts; then finish rnd. Continue in stockinette st until piece measures 2½ inches from top of ribbing. Shape top as follows: 1st rnd: * K 6, k 2 tog. Repeat from * around. 2nd and 3rd rnds: K around. 4th rnd: * K 5, k 2 tog. Repeat from * around. 5th and 6th rnds: K around. 7th rnd: * K 1, k 2 tog. Re­peat from * around. 8th rnd: K around. 9th rnd: K 2 tog all around. Break yarn, leaving a 6-inch length. Thread a blunt needle with this strand and slip remain­ing 8 sts off the needles onto strand. Pull tightly and darn in end on wrong side.
THUMB … Pull out colored thumb marker and, using No. 4 needles, slip the 5 bottom sts onto 1 needle and the 4 top sts on to another needle. Attach yarn and k around, picking up 1 st at both ends of opening and dividing the 11 sts among 3 needles. K around until Thumb meas­ures 1¼ inches. Now k 2 tog 5 times. Break yarn and finish as for top of mitten.
CORD … Cut four 2-yard strands of yarn. Make cord same as cord in direc­tions Soakers No. 5251 Pattern. Sew a mitten to each end of cord.
other patterns in leaflet: