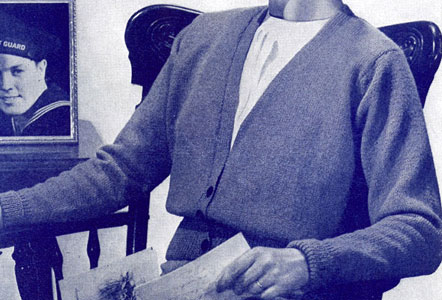 Popular with mothers and their young daughters, this cardigan is a must in sweater wardrobes.
MATERIALS:
CHADWICK'S RED HEART SHETLAND FLOSS (1 oz. balls). Size 16—11 balls. Size 18—12 balls. Size 38—12 balls. Size 40—13 balls.
Clark's O.N.T. Knitting Pins, 1 pair No. 1 and 1 pair No. 4.
5 buttons.
| | | | | |
| --- | --- | --- | --- | --- |
| MEASUREMENTS FOR BLOCKING: | 16 | 18 | 38 | 40 |
| Bust | 36" | 38" | 40" | 42" |
| Width across back at underarm | 18" | 19" | 20" | 21" |
| Width across each front at underarm (without bands) | 8½" | 9" | 9½" | 10" |
| Width across back between shoulders | 12½" | 13" | 13½" | 14" |
| Length from top of shoulder | 21½" | 21½" | 22½" | 22½" |
| Length of side seam | 13" | 13" | 13½" | 13½" |
| Length of sleeve, underarm seam | 19" | 19" | 20" | 20" |
| Width of sleeve at upperarm | 13" | 13" | 14" | 14" |
| GAUGE: (Stockinette Stitch) 7 sts make 1 inch; 9 rows make 1 inch. | | | | |
| Sizes | 16 | 18 | 38 | 40 |
| BACK … With No. 1 needles cast on | 126 sts | 134 sts | 140 sts | 148 sts |
| Work in ribbing of k 1, p 1 for 4½ inches. Change to No. 4 needles and work in stockinette st (k 1 row, p 1 row) until piece measures in all, ending with a p row, | 13" | 13" | 13½" | 13½" |
| To Shape Armholes: 1st row: K 2, sl 1, place next st on a toothpick and hold in back of work; put slipped st back on left-hand needle and k 2 tog. Put the st from toothpick back on left-hand needle and k 2 tog. K across to last 6 sts, sl 1, place next st on toothpick and hold in front of work, k next st, p.s.s.o., put the st from toothpick on right-hand needle, k next st, p.s.s.o., k 2. There remain on needle | 122 sts | 130 sts | 136 sts | 144 sts |
| 2nd row: P across. Repeat 1st and 2nd rows alternately until there remain | 86 sts | 90 sts | 96 sts | 100 sts |
| Work straight until piece measures in all | 20" | 20" | 21" | 21" |
| To shape shoulders, bind off 2 sts at beginning of next 6 rows. Bind off 3 sts at beginning of each row until there remain | 38 sts | 42 sts | 42 sts | 40 sts |
| Bind off for back of neck. | 59 sts | 53 sts | 66 sts | 70 sts |
| LEFT FRONT … With No. 1 needles cast on | 59 sts | 63 sts | 66 sts | 70 sts |
| Work in ribbing for 4½ inches. | | | | |
| Change to No. 4 needles and work in stockinette st until piece measures in all | 11½" | 11½" | 12" | 12" |
| For front shaping, dec 1 st at front edge on next row and every 4th row there­after until 23 sts in all have been de­creased at this edge. | | | | |
| However | | | | |
| When piece measures in all | 13" | 13" | 13½" | 13½" |
| shape armhole as follows: 1st row: With right side facing, k 2, sl 1, place next st on a toothpick and leave at back of work; put sl st back on left-hand needle and k 2 tog. Place the st from toothpick back on left-hand needle and k 2 tog. K remaining sts. 2nd, 3rd and 4th rows: P 1 row, k 1 row, p 1 row. Repeat these 4 rows | 6 more times | 7 more times | 8 more times | 9 more times |
| When front and armhole shapings are complete, there remain       | 22 sts | 24 sts | 25 sts | 27 sts |
| Work straight until piece measures in all | 22½" | 22½" | 23" | 23" |
| Bind off for shoulder. | | | | |
| RIGHT FRONT … Work to corre­spond with Left Front, reversing shapings. | | | | |
| SLEEVES … With No. 1 needles cast on | 60 sts | 60 sts | 64 sts | 64 sts |
| Work in ribbing for 4½ inches. | | | | |
| Change to No. 4 needles and stockinette st, increasing 1 st at both ends when piece measures 5½ inches in all, and every 6th row thereafter until there are on needle | 90 sts | 90 sts | 98 sts | 98 sts |
| Work straight until piece measures in all | 19" | 19" | 20" | 20" |
| To shape top, dec (same as on Back) 2 sts at both ends of next row and every 4th row thereafter until there remain | 58 sts | 58 sts | 62 sts | 62 sts |
| Bind off. | | | | |
| FRONT BAND … With No. 1 needles cast on 12 sts. Work tightly in ribbing of k 1, p 1, making a buttonhole 4 sts in from edge when piece measures 1 inch and thereafter (measuring from 1st but­tonhole) every 1¼ inches until 5 in all are made—to make a buttonhole, on 1 row bind off 4 sts and on next row cast on 4 sts to replace those bound off. Work straight until piece measures in all | 46" | 46" | 48" | 48" |
| Bind off. Block Band to measure about | 51" | 51" | 53" | 53" |
| Block pieces to measurements given. Sew shoulder and underarm seams. Sew sleeve seams and sew sleeves in. Sew front band along front edges and back of neck, having buttonholes on right side. Sew on buttons. | | | | |
other patterns in leaflet: