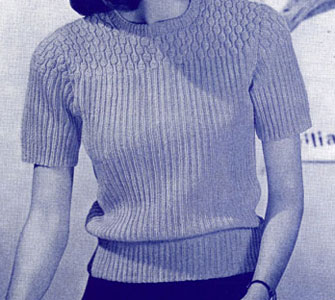 The sweater most-likely-to-succeed anywhere … simple, charming and ideal for office work. Light weight wool for under suits
MATERIALS:
CHADWICK'S RED HEART BABY WOOL (¾ oz. balls). Size 12—9 balls. Sizes 14 and 16—10 balls. Size 18—11 balls.
Clark's O.N.T, Knitting Pins, 1 pair No. 1 and 1 pair No. 3.
| | | | | |
| --- | --- | --- | --- | --- |
| MEASUREMENTS FOR BLOCKING: | 12 | 14 | 16 | 18 |
| Bust | 31" | 33" | 35" | 37" |
| Width across back or front at underarm | 15½" | 16½" | 17½" | 18½" |
| Length from shoulder to lower edge | 20" | 20½" | 21" | 21½" |
| Side seam | 13½" | 13½" | 14" | 14" |
| Sleeve seam | 3½" | 4" | 4" | 4½" |
| Across sleeve at upperarm | 12" | 12½" | 12½" | 13½" |
| GAUGE: (Ribbing) 10 rows make 1 inch; (Pattern) 12 rows make 1¼ inches. | | | | |
| Sizes | 12 | 14 | 16 | 18 |
| FRONT … With No. 1 needles cast on | 125 sts | 131 sts | 143 sts | 149 sts |
| 1st row: * P 2, k 1. Repeat from * across ending with p 2. 2nd row: * K 2, p 1. Repeat from * across ending with k 2. Repeat these 2 rows alternately until piece measures 3 inches. Change to No. 3 needles and continue in ribbing until piece measures in all | 13½" | 13½" | 14" | 14" |
| To Shape Armholes: Bind off at begin­ning of next 2 rows | 5 sts | 5 sts | 8 sts | 8 sts |
| Dec 1 st at end of each row until there remain | 101 sts | 107 sts | 107 sts | 113 sts |
| Work straight until piece measures from 1st row of armhole shaping, ending with 2nd row of ribbing, | 2" | 2½" | 2½" | 3" |
| Change to No. 1 needles and work pat­tern yoke as follows: 1st row: (Right side) * P 1, inc 1 st in next st — to inc in p st, p and k in same st — inc 1 st in next st — to inc in k st, k in the front and in the back of the st — p 2, k 1. Repeat from * across ending with p 2. 2nd row: * K 2, (O, p 1) 3 times; k 2, p 1. Repeat from * across ending with k 2. 3rd row: * P 2, (k 1, drop O off needle) 3 times; p 2, k 1. Repeat from * across ending with p 2. 4th and 5th rows: Same as 2nd and 3rd rows. 6th row: * K 2, p 3 tog, k 2, p 1. Repeat from * across ending with k 2. 7th row: * P 2, k 1, p 1, inc 1 st in each of next 2 sts. Repeat from * across end­ing with p 2. 8th row: * K 2, p 1, k 2, (O, p 1) 3 times. Repeat from * across ending with k 2. 9th row: * P 2, k 1, p 2, (k 1, drop O off needle) 3 times. Repeat from * across ending with p 2. 10th and 11th rows: Same as 8th and 9th rows. 12th row: * K 2, p 1, k 2, p 3 tog. Repeat from * across ending with k 2. These 12 rows constitute pat­tern. Repeat pattern once more. | | | | |
| To shape neck, work in pattern across | 32 sts | 35 sts | 35 sts | 38 sts |
| Bind off 37 sts for front of neck, work in pattern across remaining | 32 sts | 35 sts | 35 sts | 38 sts |
| Turn and work in pattern over last set of sts only until piece measures from 1st row of armhole shaping, ending with 6th row of pattern, | 6½" | 7" | 7" | 7½" |
| Bind off. Attach yarn at opposite side of neck edge and work to correspond. | | | | |
| BACK … Cast on and work as for Front, omitting neck shaping. When piece measures from 1st row of armhole shaping, ending with 6th row of pattern, | 6½" | 7" | 7" | 7½" |
| bind off for shoulder | 32 sts | 35 sts | 35 sts | 38 sts |
| Insert a marker on needle, bind off next 37 sts for back of neck, insert another marker and bind off remaining sts for other shoulder. | | | | |
| BACK NECKBAND … With right side facing and No. 1 needles, pick up across back of neck between markers | 49 sts | 49 sts | 53 sts | 53 sts |
| Work in ribbing of k 1, p 1 for 8 rows. Bind off loosely in ribbing. | | | | |
| FRONT NECKBAND . . . With right side facing and No. 1 needles, pick up 81 sts around front of neck. Work as for Back Neckband. | | | | |
| SLEEVES … With No. 1 needles cast on | 95 sts | 101 sts | 101 sts | 107 sts |
| 1st row: * P 2, k 1. Repeat from * across ending with p 2. 2nd row: * K 2, p 1. Repeat from * across ending with k 2. Repeat these 2 rows alternately for 1 inch. Change to No. 3 needles and con­tinue in ribbing until piece measures | 3½" | 4" | 4" | 4½" |
| To shape top, bind off 6 sts at begin­ning of next 2 rows. Then bind off 2 sts at beginning of each row until there remain | 67 sts | 69 sts | 69 sts | 83 sts |
| Dec 1 st at end of each row until there remain | 59 sts | 59 sts | 59 sts | 65 sts |
| Change to No. 1 needles and work in pattern as on Front Yoke until 6th row is completed. 7th row: P 3 tog, work in pattern across row to last 3 sts, p 3 tog. Work next 5 rows of pattern. 13th row: Dec as on 7th row. Work next 5 rows of pattern. 19th row: Bind off 4 sts, work in pattern across row to last 4 sts, p 4. 20th row: Bind off 4 sts; work in pattern across row. Work next 4 rows of pattern. 25th and 26th rows: Repeat 19th and 20th rows. Work next 4 rows of pattern. Work 2 rows in ribbing of p 2, k 1. Bind off remaining | 35 sts | 35 sts | 35 sts | 41 sts |
| Block to measurements given. Sew shoul­der, underarm and sleeve seams. Sew in sleeves. | | | | |
other patterns in leaflet: