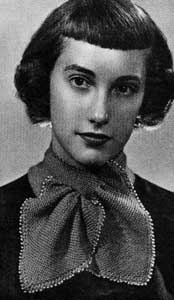 MATERIAL:
1 skein Fingering Yarn 3 ply (1 oz. skein)
1 spool thin Tinsel (75 yd. spool)
1 pair knitting needles No. 3
1 steel crochet hook No. 7
1 66 inch string of pearls
GAUGE: 7 sts. = 1 inch
With No. 3 needles cast on 3 sts. and work in garter st. Incr. 1 st. at beg. of every row until there are 76 sts. on needle. Work even for 6 rows. K 2 tog. across next row. Neckpiece: change to ribbing K 1, P 1 and work for 10 rows. Opening: work across 19 sts., attach another ball of yarn and work rem. 19 sts. Work 12 rows like this, then connect the 2 sides again (break off 1 ball of yarn). Continue to work K 1, P 1 until neck piece measures 12 inch. all tog. Incr. 1 st. in each st. across next row (76 sts.) Change to garter st. and decr. 1 st. at beg. of each row until 3 sts. are left over. Bind off. Steam lightly.
FINISHING:
String about 168 pearls on tinsel. With No. 7 crochet hook and tinsel work 1 row of picots as shown on picture around each end of scarf, working in 1 pearl on top of each picot. Fasten off.
Other great patterns from Stoles and Accessories, Volume 76:
Knitting Patterns
Cape Stole
Pocket Stole
Long Striped Stole
Shoulderette
Little Scarf
Flower Stole
Polka Dot Stole
Sport Scarf
Lacy Stole
Lacy Shruggy
Three Corner Shawl
Crochet Patterns
Crochet Stole with Multicolored Border
Shellstitch Stole
Hairpin Lace Stole