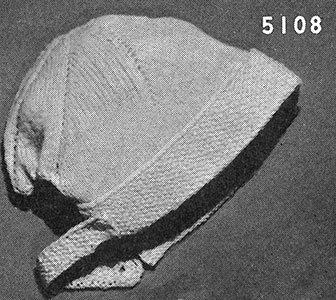 Size 1
MATERIALS:
CHADWICK'S RED HEART BABY WOOL, 1 ball (1 oz. ball).
A set of 4 double-pointed bone needles No. 3 (3 mm. size).
Milward's Steel Crochet Hook No. 4.
2 small buttons.
GAUGE: 9 sts make 1 inch; 11 rnds make 1 inch.
Starting at tip of crown, cast on 2 sts on each of 3 needles (6 sts). Join, being careful not to twist sts. 1st rnd: K around. 2nd rnd: * K 1, O. Repeat from * around (12 sts in rnd). 3rd and all odd rnds: K each st and each O around. 4th rnd: * K 2, O. Repeat from * around (18 sts in rnd). 6th rnd: * K 3, O. Repeat from * around (24 sts in rnd). 8th rnd: * K 4, O. Repeat from * around (30 sts in rnd). Continue thus, making six O's (each O is an increase) on every other rnd until there are 50 sts on each needle. Bind off 50 sts of one needle for back of neck. Slip remaining 100 sts onto one needle and work in rows of stockinette stitch (k 1 row, p 1 row) for 2½ inches, increasing 1 st on last row. Then work front band in moss stitch as follows: K 1, * p 1, k 1. Repeat from * across. Repeat this row for 1½ inches. Bind off.
CHIN STRAP … Cast on 39 sts and work in moss stitch (work in rows) as for front band for ¼ inch. Next row: K 1, p 1, k 2 tog., O, work across to within last 4 sts, O, k 2 tog., p 1, k 1. Following row: Work in pattern across, working each O as 1 st (a buttonhole made on each end of strap). Continue in pattern until piece measures ½ inch in all. Bind off in pattern.
Turn back 1¼ inches of front band and tack in place. With right side facing, work a row of s c along lower edge of cap, easing in back of neck to fit. Sew buttons to lower edge, in center of front band on each side. Button on chin strap.
other patterns in leaflet: