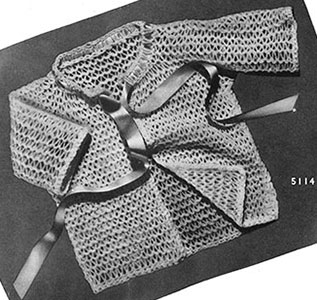 Infant size
MATERIALS:
CHADWICK'S RED HEART BABY WOOL, 1 ball (1 oz. ball).
Milward's Phantom Knitting Pins, 1 pair No. 3 (3 mm. size).
1 yd. ribbon, ⅝ inch wide.
GAUGE: 4 sts make 1 inch; 10 rows (5 ridges) make 2 inches.
RIGHT FRONT … Cast on 18 sts loosely and work as follows: 1st row: (Right side) K 1, * yarn over twice, k 1. Repeat from * across. 2nd row: K 1, * drop the two O's, k 1. Repeat from * across. Repeat these 2 rows alternately for 7 inches, ending with 1st row. Cast on 12 sts at underarm edge for sleeve, and continue in pattern over these 30 sts for 1½ inches (8½ inches in all). Starting at front edge, bind off 7 sts (neck shaping). Continue over remaining 23 sts until piece measures 10½ inches in all, ending at neck edge. Lay this piece aside on a stitch holder.
LEFT FRONT … Work to correspond with Right Front, casting on for sleeve after working 2nd row of pattern, and ending at neck edge. Do not bind off, but continue as follows:
BACK … Cast on 14 sts for back of neck. Starting at neck edge, work in pattern across 23 sts of Right Front (60 sts on needle). Work straight until piece measures 3½ inches from back of neck. Bind off 12 sts at beginning of next 2 rows (thus completing sleeves). Work straight for 7 inches. Bind off.
NECK BAND … With right side facing, pick up 50 sts evenly around neckline. K across these 50 sts. Next row: K 1, * yarn over twice, k 1. Repeat from * across. Bind off loosely, knitting the sts and dropping the O's.
Sew up underarm and sleeve in one continuous seam. Run ribbon in and out of neck band, and tie in front. Press through damp cloth.
other patterns in leaflet: