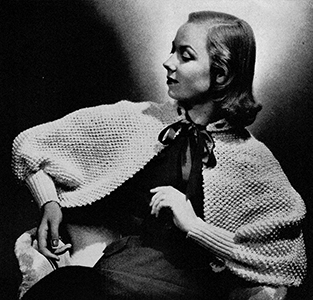 Materials: Chadwick's Red Heart Shetland Floss, 9 balls (1 oz. balls).
Milward's Phantom Knitting Pins, 1 pair No. 5 (4 mm. size).
A set of 4 double-pointed steel needles No. 13.
40 inches of satin ribbon, 1 inch wide.
Starting at one end of body of shoulderette, with No. 5 needles cast on 109 sts. 1st row: K 1, * O, k 3, sl the 1st of these 3 sts over the other 2 sts just knitted. Repeat from * across. 2nd row: K across. 3rd row: * K 3, sl the 1st of these 3 sts over the next 2 sts, O. Repeat from * across, ending row with O, k 1. 4th row: K across. These 4 rows constitute the pattern. Repeat these 4 rows until piece measures 47 inches. Then change to steel needles and work cuff as follows: Next row: K 2 tog., * k 2 tog., k 1. Repeat from * across (72 sts). Hereafter work in rnds of ribbing of k 2, p 2, for 4½ inches. Bind off in ribbing. Break off. Attach yarn to opposite end and, picking up 72 sts, work other cuff to correspond.
Fold upper edge of shoulderette over for 22 inches, making the fold 2¼ inches in the center and graduating it to nothing at both ends of this 22-inch length. Run ribbon in and out folded edge, leaving ends free to tie.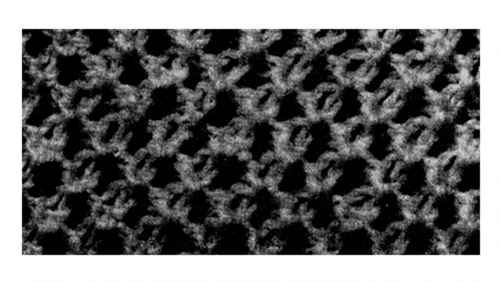 other patterns in leaflet: