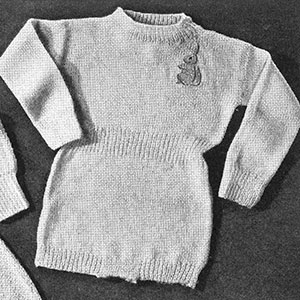 Size 1
Materials:
Chadwick's Red Heart Saxony, 5 balls (⅔ oz. balls) of main color and 1 ball of a contrasting color.
Milward's Phantom Knitting Pins, 1 pair No. 1 (2½ mm. size).
Milward's steel crochet hook No. 6.
2 small buttons.
5 snap fasteners.
Gauge: 9 sts make 1 inch; 12 rows make 1 inch.
Work starts at bottom, is worked up to shoulders and then continued down the Front.
Back. Starting at bottom, with main color cast on 18 sts and work in stockinette st (k 1 row, p 1 row) for ½ inch. Then cast on 31 sts at end of each of next 2 rows (80 sts). Work in ribbing of k 1, p 1, for 1 inch, keeping the center 18 sts in stockinette st. Next row: K across. Following row: K 2, p across, ending row with k 2. Repeat these last 2 rows alternately, until piece measures 7 inches in all (measuring from 31 sts cast on). Hereafter, work in ribbing for 1½ inches. Then work as before until piece measures 14½ inches. On next row, with right side of work toward you, k across 1st 22 sts, bind off 45 sts (for back of neck), k across remaining 13 sts. Following row: K 13, cast on 9 sts, turn. Hereafter, work over these 22 sts only, in garter st (k each row), for 1 inch. Then work in stockinette st, keeping the 2 sts at outer edge k sts, and increasing 1 st at opposite edge (neck edge) each row until there are 30 sts on needle, ending with a p row. Break off. Attach yarn at opposite side of neck edge and work to correspond, ending with a k row. Cast on 20 sts, then k across 30 sts of first side (thus closing neck), and continue to work Front to correspond with Back. Bind off.
Sleeves. Starting at bottom, with main color cast on 48 sts and work in ribbing for 2 inches. Then work in stockinette st, keeping the 2 sts at both ends in garter st, until piece measures 10 inches in all. Bind off.
Neck Band. With right side of work toward you, starting at garter st edge at right side of Front, with main color pick up 92 sts all around neck edge. Work in ribbing for ½ inch. Attach contrasting color and work for 2 more rows. Break off. Pick up main color and work until neck band measures 1 inch. Bind off. Sew up side seams, leaving an opening of 4 inches at top for sleeve to fit into. Sew up sleeve seams and sew sleeves in. Work a row of s c across opening at neck edge, making 2 ch-4 buttonloops on front edge. Sew on buttons to correspond with buttonloops. Make a ¼-inch hem at each side of crotch across center 18 sts and sew in place. Sew snap fasteners along crotch.
Embroidery. Trace the bunny from diagram (which is actual size). Then place transfer in position as in illustration and make a basting stitch all around the edges. Remove the transfer and, with contrasting color, work in chain stitch until the space within the basting is completely covered, making a chain stitch for each k st. Pull out basting thread. For eyes, with main color make a French knot.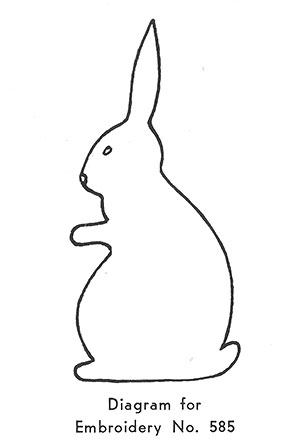 other patterns in leaflet: