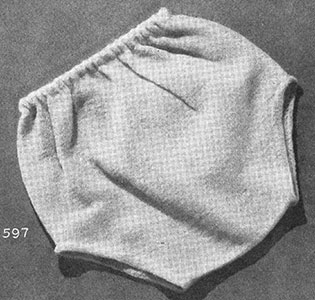 Size 2
Materials:
Chadwick's Red Heart Saxony, 3 balls (⅔ oz. balls).
Milward's Phantom Knitting Pins, 1 pair No. 1 (2½ mm. size).
15 inches of narrow elastic.
Gauge: 10 sts make 1 inch; 12 rows make 1 inch.
Starting at waistline, cast on 110 sts and work in stockinette st (k 1 row, p 1 row) for 6½ inches. To shape legs, dec. 1 st at both ends of each row until 86 sts remain. Then dec. 1 st at end of each row until 50 sts remain. Bind off. Make another piece same as this.
Sew up side seams. Sew up crotch seam. Make a ½ inch hem on wrong side of work at waistline; run elastic through and sew ends securely.
Binding. Cast on 6 sts and work in stockinette st until piece is long enough to go around leg. Bind off. Sew binding around leg as in illustration. Finish other leg in same way.
other patterns in leaflet: