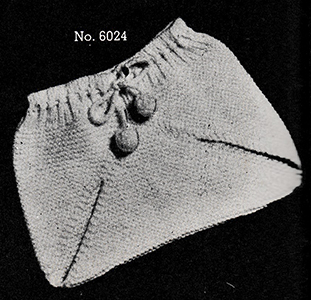 1 Pr. Standard Knitting Needles No. 3
Jack Frost Sport Yarn—1 2-oz. Ball
Cast on 106 sts. Work ribbing of K 1 P 1 for 6 rows. Then work as follows: * K 1 P 1, Y.O., P 2 together; repeat from * across row. Work in ribbing for 6 more rows. Then work in garter st, decreasing 1 st at end of each row until 1 st remains. Fasten off. Sew ends of ribbing tog. Fold pants so that points meet ribbing. Sew sides of points to sides of pants below ribbing for 2½ inches, leaving remaining opening for legs. With double strand of yarn work a loose chain 30 inches long. Draw thru beading at top of pants. Trim with pompoms.