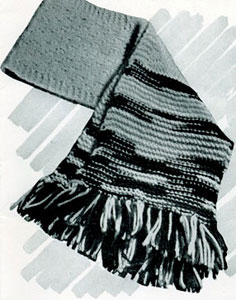 MATERIALS REQUIRED—American Thread Company "Dawn" Knitting Worsted.
2 2-ounce Skeins White.
1–1¾ or 2 ounce Skein of any Solid or Shaded Color.
1 Pair Bone Knitting Needles No. 10.
With Color—Cast on 32 sts and K 3 inches then K 8 rows White, 6 rows Color, repeat the last 14 rows. Attach White, K 1 row and begin basket weave pat­tern : K the 1st 4 and last 4 sts in each row and on remaining sts work as follows:
1st and 2nd Row—K 2, P 2.
3rd Row—K across row.
4th and 5th Rows—P 2, K 2.
6th Row—Purl across row. Repeat these 6 rows until scarf measures about 28 inches and finish end to correspond.
Fringe—Cut 6 inch lengths of yarn, take 2 strands, double these and knot through every other st.
other patterns in leaflet: