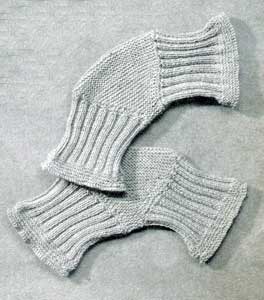 Materials:
Columbia Spanish Knitting Worsted, 4 ounce skeins. 1 skein Khaki, 8978.
Needles:
Columbia Celluloid or Boye Non-inflammable Needles, size 2.
Gauge: (Garter st)
7 sts = 1 inch. 14 rows = 1 inch.
Cast on 6 sts and work even in plain knitting (garter st) for 8 rows. Inc 1 st in the second st every row 22 times (28 sts on needle). K 48 rows plain. Dec by knitting the second and third sts tog every row 22 times. K 8 rows even.
Pick up 72 sts along one side and k 3 rows, then work in k 2, p 2 ribbing for 31 rows. K 10 rows, bind off. Work other side of center piece in same manner. Thread elastic thread through 1 row of plain knitting at each end. Sew seams.
Other great patterns from Practical Handknits Adaptable for War Relief, Volume No. 93:
Knitting Patterns
V-Neck Coat Sweater
V-Neck Slip-Over
Sleeveless Slip-Over
Round Neck Slip-Over
Raglan Slip-Over
Woman's Cardigan
Child's Slip-Over
Child's Socks
Helmet
Wristlet
Abdominal Band
Heeless Socks
Muffler
Wristlet Mittens
Child's Cap and Glove Set
Beany Cap
Children's Mittens
Knee-Cap Socks
Rifleman's Glove
Socks