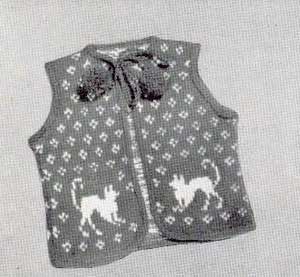 MATERIALS:
2 oz. 3 ply zephyr spun wool for background
1 oz. 3 ply zephyr spun wool for pattern
1 pair No. 2 needles
Knitting Chart
GAUGE:
7 stitches = 1 inch
10 rows = 1 inch
Stockinette stitch is used throughout.
BACK:
Using background color, cast on 69 stitches and follow chart for back. On 5th row attach pattern yarn and continue to follow chart.
At the beginning of 45th and 46th rows, bind off 5 stitches for armhole. Then bind off 1 stitch at beginning of next 10 rows (see chart). Work straight in pattern on remaining 49 stitches for 18 rows. Then knit (or purl, as necessary) 16 stitches, put these on stitch holder. Bind off next 17 stitches. Work remaining 16 stitches and leave these on a stitch holder, too.
RIGHT FRONT:
Cast on 30 stitches and follow chart for front pattern, knit 1 row, purl 1 row. At beginning of next row (the front edge of jacket) increase 1 stitch in 1st stitch by knitting in front and back of that stitch. Purl back. In next row increase 1 stitch in 1st stitch as before. Then attach pattern yarn and follow chart. Increase 1 stitch at beginning of knit rows twice more (4 times in all). You will now have 34 stitches on your needle. On the 46th row start shaping armhole as shown on chart. The decreases will come at beginning of purl rows. On neck edge at beginning of 63rd row bind off 6 stitches, and then bind off 1 stitch at neck edge every other row twice. Continue work as shown on chart. Take off remaining 16 stitches on a stitch holder and leave.
LEFT FRONT:
Make to correspond to right following chart for left front. Weave fronts to back. (See General Directions.)
FINISHING:
Cast on 5 stitches in background color and work a strip in stockinette stitch just long enough to sew around outside edge of sweater (about 40 inches). It is important that this strip be the right length so that when the sweater is blocked, the edging will not pull or curl. Adjust if necessary. Make two similar strips for armholes. Fold strip in half and sew on as a narrow binding.
Make two cords, each about 6 inches long, with yarn twisted or crocheted in chain stitch, using the yarn double. Attach one cord to each side of neck and finish with tassels or large wooden beads.
Other great patterns from Mother Goose Sweaters, Volume 50:
Knitting Patterns
Pussy Cat Sweater Vest
Little Pony Sweater Vest
Three Ships Pullover
Three Blind Mice Sweater Vest
Simple Simon Cardigan
Hey Diddle-Diddle Cardigan
Jack Be Nimble Sweater
Bobby Shaftoe Cardigan
Trip and Go Sweater
Butterfly, Butterfly Pullover
Dr. Foster Cardigan