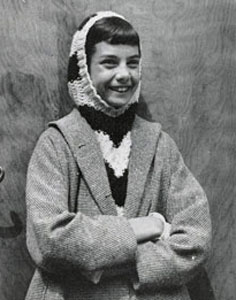 MATERIALS
BERNAT Nylo Germantown (2 oz. skeins) — 2 White (M C); 1 Contrasting Color (C C)
1 pair straight knitting needles No. 10 OR ANY SIZE NEEDLES WHICH WILL GIVE THE STITCH GAUGE GIVEN BELOW
1 pair d p needles No. 5
GAUGE: 3 sts = 1 inch; 8 rows = 1 inch
PATTERN STITCH: Multiple of 2 sts plus 1.
Row 1: K 1, * K the next st in the row below, K 1, repeat from * across row.
Row 2: K 2, * K the next st in the row below, K 1, repeat from *, ending K 2 instead of K 1.
Repeat these 2 rows for pattern stitch.
STRIPING PATTERN: Work in pattern st as follows: * 16 rows M C, 16 rows C C, repeat from * for striping pattern.
LEFT PIECE: Using M C and No. 10 needles, cast on 63 sts, K 1 row. Work in striping pattern, dec 1 st each end of needle every 4th row 10 times and every 3rd row 7 times, ending with 16 rows C C. At beg of next row (front edge) bind off 3 sts, work to last 2 sts, K 2 tog (back edge). Continuing to dec 1 st at back edge every 3rd row twice more, dec 1 st at front edge every other row 5 times. Work even on 18 sts until piece measures 13 inches, ending with 8 rows M C. On the next row at back edge dec 1 st and repeat this dec every 6th row 3 times more and every other row 4 times. At back edge bind off 4 sts once and 3 sts twice.
RIGHT PIECE: Work to correspond to left piece, reversing all shaping.
FINISHING: Sew back and front seams. BORDER: Using M C and d p needles, with right side facing you, pick up 112 sts around face of hood. K 2, P 2 in ribbing for 1 inch. Bind off loosely. Block.
other patterns in leaflet: